Rent to Own Homes
Tri-State Lease Options

Rent to own homes

also known as

lease purchase

or

lease option homes

are an excellent alternative for people who want to own their own home but are not quite ready do to credit issues or not enough money for a down payment. The way a

rent to own

home works is you have a standard rental lease which allows you to live in the home and then you have a seperate "Option" agreement which gives you the right to purchase the home at or before the lease is up.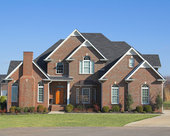 Tri-State Lease Options
is owned and operated by both a licensed Realtor®, Dave Overholser, and a licensed Mortgage Loan officer, Salle Mickey.
There are several advantages of buying a house on a rent to own agreement, they are:
No bank qualifying to get started, as long as you have a job and can afford the payments and can make the down payment, most are approved.
Your

down payment and a portion of the rent

that you pay each month is

credited towards the purchase price of the house.
Usually only a

1-3% down payment

is needed
You get a chance to "try out the house" before you buy
If you have credit issues, this gives you the opportunity to

repair or build your credit

while you are building equity and living in the house.
Click here to go to the Tri-State Lease Options website for more info and to get notified of Rent to Own homes as they become available